Maryland Mental Wellness
Feeling anxious, down, or unmotivated, or overwhelmed? You're not alone.
More Marylanders have mental health concerns due to the impact of COVID-19. The uncertainty, loss of jobs, loss of life, difficulty accessing care, social distancing, and the loss of normalcy are having a profound impact on everyone.
This summer, 29-32 percent of Marylanders had symptoms of depression that warranted further screening, according to the Household Pulse Survey by the CDC.
Stay connected with caring messages of hope and encouragement. MDMindHealth and MDSaludMental are text-messaging platforms that send weekly messages of encouragement and support for your mental wellness. 211 Maryland launched this mental health texting platform in partnership with the Dipartimento della salute del Maryland, amministrazione della salute comportamentale.
The text messages focus on topics like:
Avoiding negative self-talk
Showing self-kindness
Practicing self-compassion
Focusing on the present
Get practical tips that can make a difference in your life. Get connected to additional support and resources any time you need it.
Our trained call specialists are able to connect you with essential resources 24/7/365. Just dial 2-1-1 and Press 1. You can also chat or text, two popular options for those needing help. Start a chat or text your ZIP code to 8-9-8-2-1-1.*
*211 Il Maryland offre programmi di avviso tramite messaggi di testo che forniscono informazioni sulle risorse specifiche della regione o forniscono avvisi di emergenza. Invia STOP allo stesso numero per annullare l'iscrizione. Termini SMS completi a https://211md.org/sms/ si applicherà anche.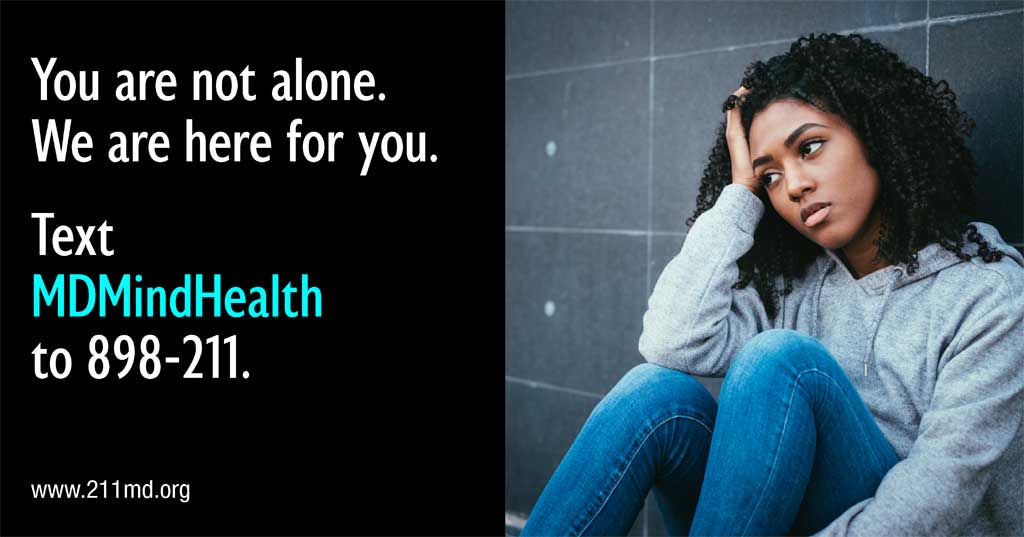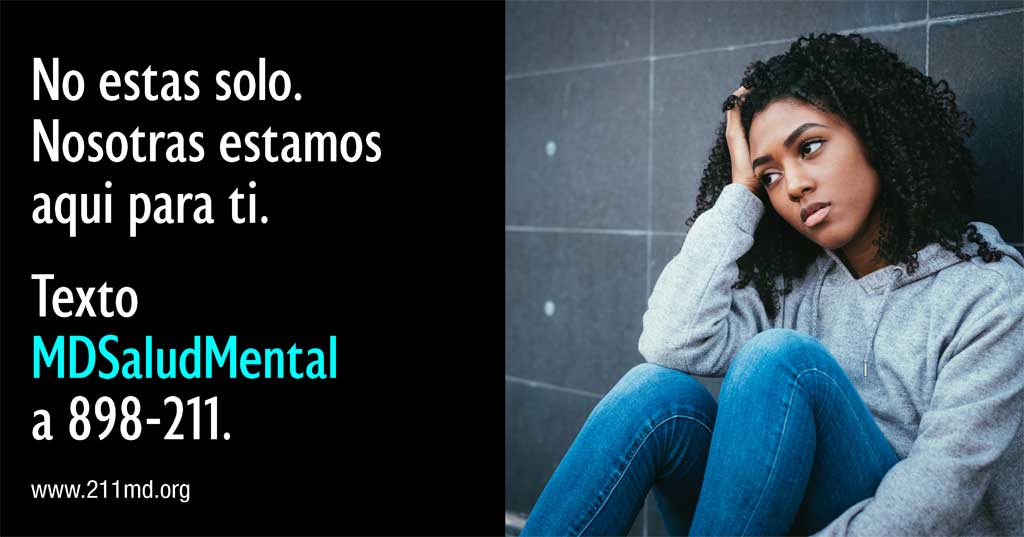 211 Maryland Mental Health And Crisis Support
We've seen an increase in calls to our crisis hotline, 211 Press 1. In August alone, we saw a 12 percent increase in the number of COVID-19 related calls.
In general, calls, chats, and text requests for essential resources are up significantly.
From April to June, texts were up 425 percent compared to the previous year.