What Is MDHope?
MDHope is a new opioid texting program that connects Maryland families with essential opioid-related resources including treatment providers, safe drug disposal, and messages of support. Individuals, family members, friends, and professionals can use the texting program to receive on-demand information. Ongoing, supportive affirmations are also offered to support an individual on the road to recovery.
Text MDHope to 898-211
211 메릴랜드는 지역별 자원 정보를 제공하거나 재해 경보를 제공하는 문자 메시지 경보 프로그램을 제공합니다. 구독을 취소하려면 같은 번호로 STOP 문자를 보내세요. 전체 SMS 약관 https://211md.org/sms/ 도 적용됩니다.
Upon texting MDHope to 898-211, the individual will be asked questions to guide them to the best resources for a given situation.
Information is offered to anyone in Maryland with concerns about opioid use, including family, friends, professionals, and service providers.
The text messages may include:
Information on overdose reversal medication.
Overdose prevention tips.
General information on opioid use.
Treatment options.
Signs of overdose.
Safe disposal of prescription drugs.
Bi-weekly support and affirmations.
At any time, the individual can speak immediately with a trained call specialist. They are available 24/7/365.
Crisis intervention is always available at 211 Maryland. Dial 2-1-1 and Press 1 to speak with a certified call specialist in suicide, mental health, and substance abuse treatment.
This partnership is made possible by 211 Maryland and RALI Maryland. It's an alliance of more than two dozen local, state, and national organizations devoted to creating solutions to end the opioid crisis in Maryland.
You can learn about the other ways 211 Maryland is helping stop the stigma.
Opioid Misuse
Opioid use is on the rise in Maryland. Opioid-related calls to 211 Maryland increased 57 percent in the last three years.
Fentanyl-related deaths skyrocketed in 2015 and continue to be the leading cause of drug and alcohol-related intoxication deaths, according to the 메릴랜드 보건부. Heroin, prescription drugs, alcohol, benzodiazepines, and cocaine are also contributing causes.
코로나바이러스감염증-19 : 코로나19 is exacerbating the problem in Maryland. Opioid-related deaths are up nearly 3 percent in the first half of 2020 compared to the same time in 2019, according to the Maryland Department of Health and the Opioid Operational Command Center. Fentanyl is the deadliest drug in Maryland, causing the majority of opioid-related deaths.
RALI Maryland believes social distancing and isolation are leading to an increase in opioid misuse, overdose, and death this year. Experts also point to job loss, economic uncertainty, and disrupted supply chains for the nationwide increases.
Addiction and Recovery expert, Mark O'Brien wrote, "Battling COVID-19 & Opioid Misuse in our Communities" for RALI Maryland. He points out it's more difficult for people to find and stay in recovery due to the limitations of COVID-19.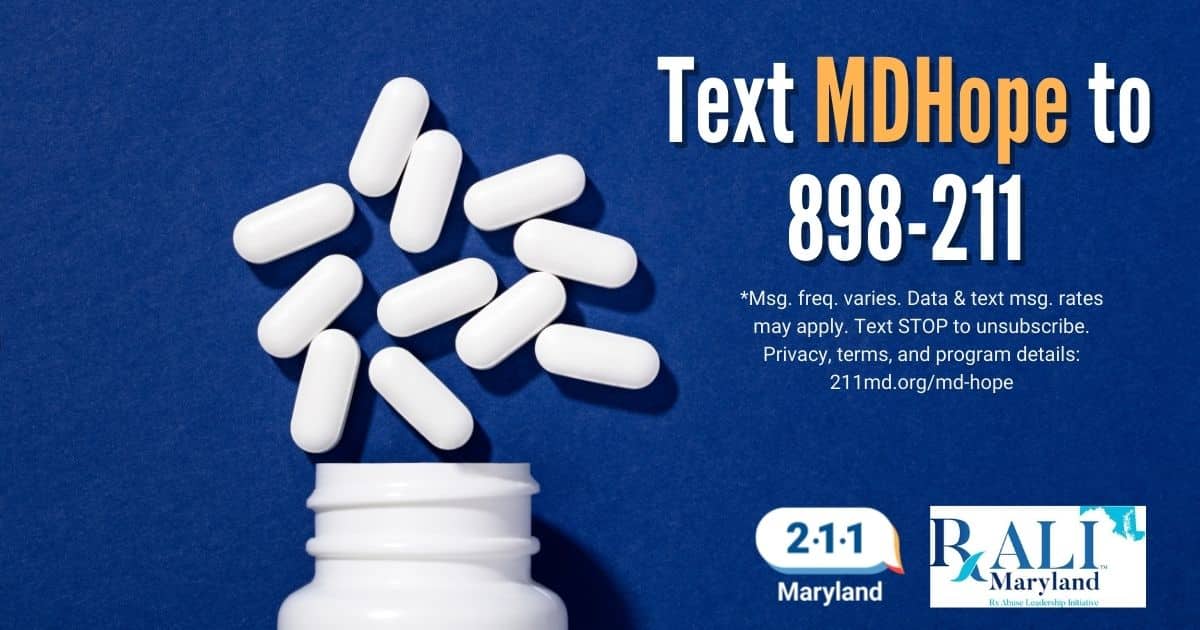 211 메릴랜드는 지역별 자원 정보를 제공하거나 재해 경보를 제공하는 문자 메시지 경보 프로그램을 제공합니다. 구독을 취소하려면 같은 번호로 STOP 문자를 보내세요. 전체 SMS 약관 https://211md.org/sms/ 도 적용됩니다.
"Addiction is a disease of isolation, and recovery is about connection."

– Mark O'Brien, Addiction and recovery expert
Regular, in-person support is key to recovery. While virtual appointments and meetings fill the gap, technology is not a replacement for in-person support and bonds that are essential to treatment and recovery.
Maryland Drug Treatment
Treatment is available. The first step is getting help.
211 Maryland, our partner RALI Maryland (Rx Abuse Leadership Initiative), and state legislators are making it easier to find that help and continue on a path to recovery.
Take action today!
Text MDHope to 898-211. 
211 메릴랜드는 지역별 자원 정보를 제공하거나 재해 경보를 제공하는 문자 메시지 경보 프로그램을 제공합니다. 구독을 취소하려면 같은 번호로 STOP 문자를 보내세요. 전체 SMS 약관 https://211md.org/sms/ 도 적용됩니다.
In addition to immediate support and resources, MDHope also offers several months of ongoing, bi-weekly support and affirmations to help an individual remain hopeful day after day.
The texting program provides information that's readily available in a text message. When an individual is ready for treatment, the information is there with a click of a button. If you're ready to get a loved one or client help, you'll have the treatment options in a text message that you can easily share.
Safe Disposal Of Prescription Medications
You don't need to know someone struggling with addiction to make a difference in your community. The safe disposal of prescription medications prevents misuse and protects the environment. Twice a year, Marylanders can participate in the Prescription Drug Take-Back Initiative. They're held in the spring and fall. This one-day event allows Maryland residents to safely dispose of unwanted medications.
RALI Maryland donated drug disposal kits that make it easy to get rid of old medicine. You simply pour your medication into the pouch, add water, seal it, and throw it away.
을 찾다 Drug Take-Back site near you, or search for a 24/7/365 drug disposal site.
How You Can Help
Share the program details with family, friends, or someone in your care. Download the flyer below or share the videos from well-known state legislators.
Several Maryland state legislators are sharing this message of hope. Delegates Joseline Peña-Melnyk, Bonnie Cullison, Shaneka Henson, and Ken Kerr as well as Senator Kathy Klausmeier are encouraging Marylanders to text MDHope to 898-211.
Help is just a text away.