Informational And Inspirational Text Messages
211 Maryland offers residents a number of ways to get connected to essential health and human resources. In addition to calling 2-1-1, and chatting with us, we offer text PUSH-ALERT campaigns. You send a "keyword" to a number and you'll receive supportive and informational text messages.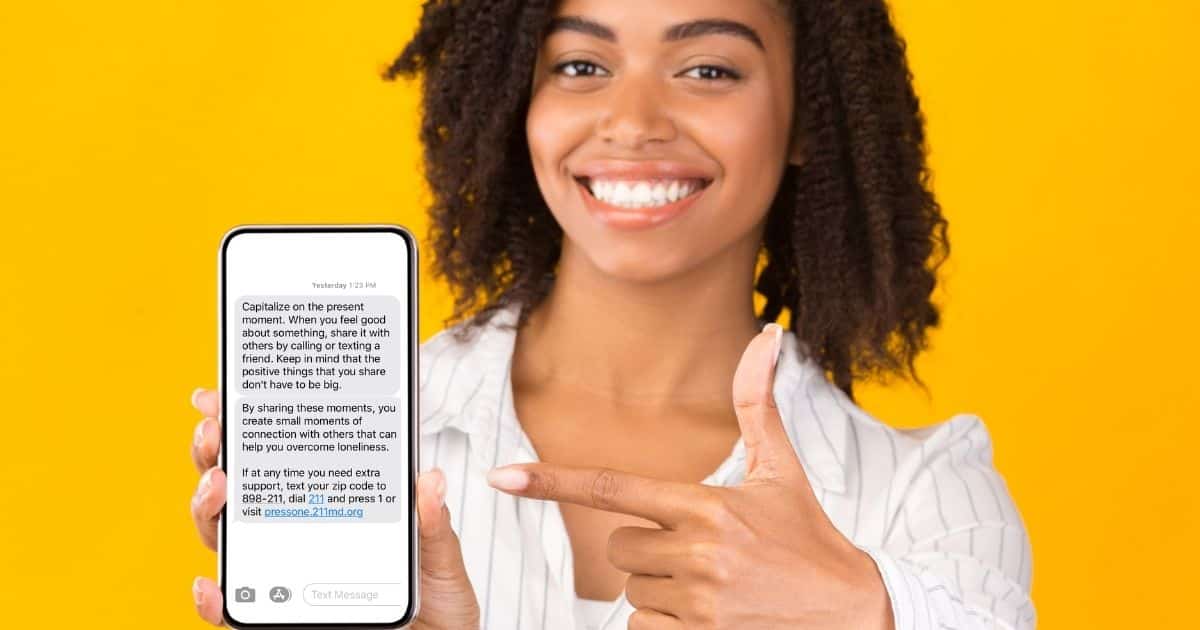 If you're on mobile, click on the keyword button to open text messaging. Otherwise, text the keyword to the phone number.
211 Maryland offers text message alert programs which provide region-specific resource information or provide disaster alerts. Text STOP to the same number to unsubscribe. Full SMS terms at https://211md.org/sms/ will also apply.
MDYoungMinds supports the mental health of individuals age 18 and younger.
Learn about the signs of teen depression and the ways MDYoungMinds can support teens and adolescents.
Partner: Maryland Department of Health, Office of Suicide Prevention
Text MDYoungMinds to 898-211.
MDKinCares provides encouragement, support and resources to caregivers.
Partner: Maryland Department of Human Services
Text MDKinCares to 898-211.
MDStopHate is a one-stop resource for reporting hate crimes and incidents and providing resources to victims. Stop hate by reporting it!
Partner: Governor's Office of Immigrant Affairs | Governor's Office of Community Initiative
Text MDStopHate to 898-211
MDAging provides immediate and on-demand access to service providers and resources for seniors and caregivers of adults with disabilities.
Partner: Maryland Department of Aging
Text MDAging to 898-211
MDHope is a partnership with RALI Maryland to connect individuals, professionals, family and friends with information on overdose reversal medication, treatment options, prevention tips, safe-disposal of prescription drugs, and bi-weekly affirmations and messages of support.
Learn about all the way MDHope can help lower the Maryland opioid epidemic.
Partner: Rx Abuse Leadership Initiative of Maryland
Text MDHope to 898-211
MDMindHealth offers motivational messages, alerts to maintain good mental health, and resources for Maryland crisis services and counseling. The text messages are also available in Spanish at MDSaludMental.
Learn more about the ways MDMindHealth can help you or someone you know.
Partner: Behavioral Health Administration
Text MDMindHealth to 898-211
Text MDSaludMental to 898-211
MdReady (English) and MdListo (Spanish) alert you to the latest on COVID-19, extreme weather advisories and flood warnings. You'll also get mitigation, relief and recovery resources texted to you after a natural disaster and/or large-scale criminal situation. Get more information on the types of alerts sent through MdReady/MdListo.
Partner: Maryland Department of Emergency Management
Text MdReady to 211-631
Text MdListo to 211-631
MDWellness focuses on mental health first aid for the helping profession. Subscribers get strategies and resources to access stress management services through mindfulness, nutrition and social affiliation.
Partner: University of Maryland
Text MDWellness to 898-211
MDCom2Vets increases connections with Veterans and provides ongoing updates for events, resources and available providers in a community.
Partner: Behavioral Health Administration
Text MDCom2Vets to 898-211
Connect With Your Audience On-Demand
Use the 211 Maryland texting platform to send customized messages to your audience(s). Inquire about rates and functionality, and join the other organizations already using 211 MD to send text messages.