211 Maryland speaks with Congressman Jamie Raskin on the Thomas Bloom Raskin Act/211 Health Check. It's a proactive way for Marylanders to connect with a caring 211 specialist who can support their well-being.
Show Notes
Click on the show note section to jump to that part of the transcript.
1:00 About Raskin's work
Congressman Raskin talks about how his work in the Maryland legislature prepared him for his Congressional work.
2:12 How the pandemic has changed Maryland needs
The discussion covers how the needs have evolved throughout the pandemic, and ways these needs are being addressed, including mental health concerns.
3:28 Thomas Bloom Raskin Act
The Maryland legislature passed the Thomas Bloom Raskin Act/211 Health Check in honor of Raskin's son Tommy who died by suicide. They talk about how the program and how it will impact Marylanders.
5:22 Tommy's impact and mental health stigmas
Many people were shaken by the loss of Tommy, an exuberant young man. His legacy lives on in many ways, and Raskin talks about ending the stigma of emotional health concerns.
7:52 Epidemic of mental and emotional health crises
Raskin talks about how pervasive mental health concerns are in society, and the issue is growing.
9:38 Tommy's legacy
The Tommy Raskin Memorial Fund for People and Animals is already having an impact.
10:34 Raskin's message on mental health
Resources are available to support anyone struggling. Raskin reflects on working toward a year when no one is lost to suicide.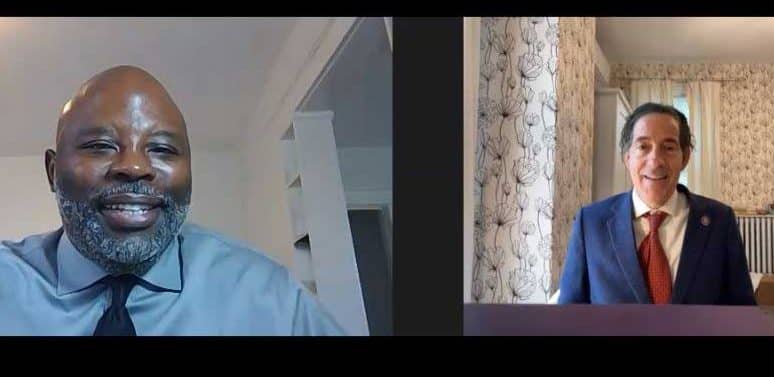 Transcript
Quinton Askew, 211 Maryland
Welcome to What's the 211 podcast. We are delighted and honored to have our guest today who really does not need an introduction. He was our previous State Senator for many years and currently represents Maryland's 8th Congressional District in the U.S. House of Representatives. Mr. Congressman Jamie Raskin. Good afternoon, Congressman, how are you?
Congressman Jamie Raskin (1:00)
Delighted to be with you.
Quinton Askew (1:02)
Thank you again for taking the time to join us. I know it was a busy time of the year for you. We know you spent several years in the Maryland legislature. You know, a little over ten. How did that really prepare you for the care work that you're doing now and in Congress?
Congressman Jamie Raskin (1:15)
Oh, I mean, it's the absolute building blocks of everything that we do. It did not prepare me for the level of political polarization and dysfunction that we have in Congress, because I think that Annapolis operates in a far more cooperative and inclusive way than Congress does.
And I think people's general manners and civility are much better in Maryland than they are, unfortunately in Congress.
But, I got a great education into a lot of all the main issues. I mean, basically foreign policy is the one thing that, you know, a state legislature doesn't get you ready for, but living in our area, you know, there's lots of people. I certainly have lots of constituents, the ambassadors, state department people, military people who can help on that.
So, I'd say compared to people who come into Congress, not having served in the state legislature, I think that the veterans of state legislatures are really able to hit the ground running.
Quinton Askew (2:12)
We all have been working through the pandemic since last January. How has that sort of changed some of your work in the needs that you're hearing from Marylanders?
Congressman Jamie Raskin (2:21)
Well, I mean, it's changed everything about our work because, you know, at first we were struggling to get people back from abroad. People who are stuck over there and then it was getting, you know, the personal protective equipment to people. Just finding masks for people. And then we were off to the races in terms of testing, and then there was the economic fallout.
So my district office was overwhelmed and trying to address the needs of our community at the same time that I was involved in trying to deal with this legislatively originally through the Cares Act.
And, then a whole sequence of legislation that, you know, ended up with the American Rescue Act under President Biden. I was also put on the COVID-19 Select Committee in Congress to try to make sure that the money was reaching the right places, that it wasn't being siphoned off in corruption and fraud and so on.
So, I mean, it's been a tough time for our people, as you know, and we've suffered a terrible emotional and mental health crisis in the country as a result of all of the isolation that people have experienced as well as the economic.
Thomas Bloom Raskin Act/211 Health Check
Quinton Askew (3:28)
Yes, definitely. And definitely appreciate all the work. And so you put a lot of effort and really advocating for support around housing and various issues for Maryland and especially combating the opioid crisis.
You know, when you were informed that Senator Zucker, Senator Augustine and Delegate Cullison were co-sponsors of Senate Bill 719, that became the Thomas Bloom Raskin Act/211 Health Check that allowed Maryland to create this proactive mental health call program. What was your sort of your reaction to that?
Congressman Jamie Raskin (3:55)
Well, the people in Maryland had just been very, very good to our family as we've suffered this trauma of losing Tommy on the last day of 2020. And, you know, I know how much thought and work goes into developing legislation and for them to have come up with this idea of having the 211 program where the state will assign counselors and doctors to be in touch with you, to check in on you, and then to name the whole thing after Tommy was very moving to us. Very moving.
Quinton Askew (4:31)
Yes. And so what, what do you see as the impact of that across the state?
Congressman Jamie Raskin (4:36)
Well, you know what, we live in a state that is actually invested in the well-being of its people, and that means not just your physical health, but your mental and emotional health. Just because your mental and emotional health are invisible, in some sense, doesn't mean that we're going to ignore it. It's just, you know, somebody who is suffering from depression or bipolar disorder or post-traumatic stress syndrome is suffering from a serious health condition. Just like someone who's got cancer or sickle cell anemia or some other kind of disease.
And I think it just keeps Maryland in the forefront of being a state that wants to use the government as an instrument for the well-being of its own people.
Tommy's Impact And Mental Health Stigmas
Quinton Askew (5:22)
Yes, that's definitely true. And that I've heard you speak many times in reference to, you know, stigma around mental health.
Our current Behavioral Health Administration is also doing a lot of work, trying to remove the stigma, and understanding individuals, helping them understand mental health. And so we know that these conditions are really stigmatized.
Can you share a little bit about, you know, Tommy and his impact that he's had across others in some of his friends and what his impact has been, you know, that you've heard?
Congressman Jamie Raskin (5:49)
Well, there are more than a dozen different projects that have been named after Tommy so far, including, you know, soup kitchen kind of activity, scholarships, camperships, the 211 program, there are international things.
So, his story, which is of course not a unique story, but his story just shook a lot of people up and reached a lot of people.
I mean, Tommy was a brilliant and dazzling young man. I mean, he was in his second year at Harvard law school. He was a graduate of Blair High School, of Amherst College. And people knew him to be a very loving exuberant, connected young man. He was a passionate Vegan. He was a champion of animal rights, human rights. And I think that people were startled and shaken and crestfallen about what had happened and wanted to try to do something positive in his memory. And, you know, there should be no more social stigma to somebody having a mental or emotional health problem.
Congressman Jamie Raskin (7:01)
We shouldn't stigmatize people because they got COVID-19 or they have cancer or they have depression. I mean, there's these things that are just part of the human condition and they're also pervasive.
I mean, I think it's probably impossible to find a single family in America that hasn't been touched by a health problem, including, you know, drug and alcohol problems and substance use disorders, which are also part of the equation.
So, we've got to try to incorporate everybody's experience and everybody's issues as we look at how we're going to deploy public resources to uplift the health of the population.
The Epidemic Of Mental And Emotional Health Crises
Quinton Askew (7:52)
Yes. Thank you for sharing that, you know, there is a lot still to learn about mental health across the state. Has there been anything that, you know, you have learned yourself that you weren't aware of as you've been sort of outspoken about it?
Congressman Jamie Raskin (8:04)
Well, it's so pervasive Quinton. I mean, we got more than 10,000 letters, packages, and books. I mean, we're still trying to read through the mountain of mail and the email and the calls and so on, and we're very grateful for all of it, but this is something that huge parts of the population are struggling with. Something like 70 or 80 million Americans have dealt with emotional or mental health problems.
When we last Tommy, a study had come out shortly before that, showing that, whereas in 2019, one in ten people in Tommy's age group, in their twenties had considered suicide within the last month. In 2020, it was one in four people in that age group had thought about it in the last 30 days.
So, we're talking about an epidemic of mental and emotional health crises.
And, you know, I'm a political person Quinton. I believe in, you know, politics being an instrument of public education and government being an active instrument of our common good. And so for me, I want every young person or every person who's suffering to have people to connect to. We don't want to lose anybody else.
And also, I want everybody to think of politics and social life and political life as part of the solution, like the things that you're going through, I should not make you feel isolated and solitary. You're going through things that lots of people go through.
Tommy's Legacy
Quinton Askew (9:38)
It's absolutely true, but your family has started a Memorial fund for Tommy – Tommy Raskin Memorial Fund for People and Animals. But what do you all hope that this will achieve?
Congressman Jamie Raskin (9:46)
Well, it's being run by Tommy's sisters and by cousins and also friends, but the fund has already raised more than a million bucks, and they're putting it into human rights kind of activity. They've done some grants around refugees from Afghanistan and people in other war torn areas. The earthquake in Haiti, but also into animal stuff too, which was very close to Tommy's heart. The Humane Society, Animal Outlook, other groups that are working broadly in the realm of human rights and human welfare, animal rights and animal welfare. Tommy loved to all living things and wanting to make sure that we kept the well-being of other people very close in our minds.
Raskin's Message On Mental Health
Quinton Askew (10:34)
That's definitely great. And so, in closing, is there a message that you would like to share with others about mental health across the state?
Congressman Jamie Raskin (10:42)
Well, I think that people have got to know that the resources are there to take care of people having problems. And, you know, we have the resourcefulness as a state and as communities across the state to take care of our people.
And. it would be great for us to have a year when we lose no one to suicide. It would be great to have a year where mental and emotional health crises go down rather than up. But that means we've got to get on top of it and we've got to integrate, you know, the kind of work you do into everybody's consciousness. So people are aware this is out there and we need to be taken care of our mental health right along with our physical health.
Quinton Askew (11:32)
That's right. Yeah. That definitely a great statement. And just as a reminder, I would like to encourage anyone. If you are in crisis or need to speak with someone right away, call or text 988.
[Editor's Note: The transcript was updated to reflect the new Suicide & Crisis Lifeline in Maryland, which is 988.]
You can also sign up for weekly check-ins by texting HealthCheck to 211-MD1 (631). I wanted to stay before taking some time to come on. I thank you for sharing the story and all the work that you do.
Congressman Jamie Raskin (11:57)
I appreciate it. And hello to all my friends out there helping with 211. Thank you so much for it.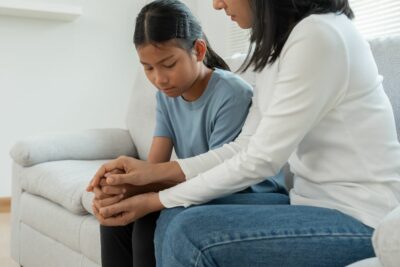 On What's the 211? podcast, we talk about the Kennedy Krieger Institute and how they support adolescenet mental health needs.
Read More >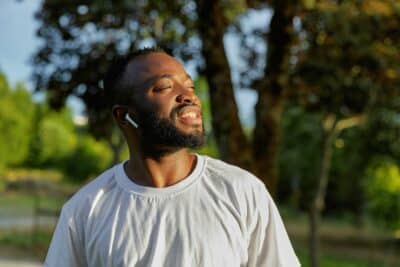 More people are talking about their mental health experiences, which is a step in the…
Read More >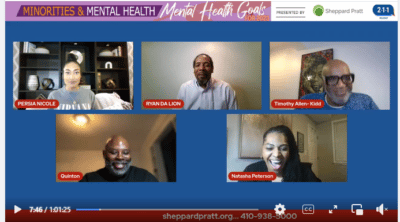 211 Maryland joined Sheppard Pratt and Springboard Community Services for a discussion on 92Q on…
Read More >