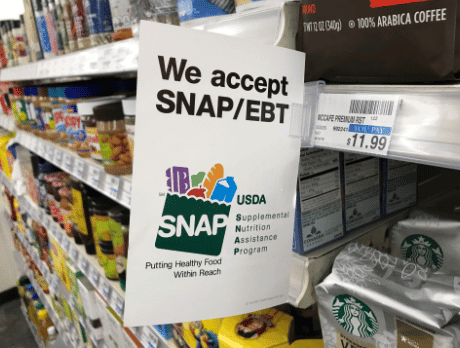 The Supplemental Nutrition Assistance Program (SNAP), formerly referred to as food stamps, provides support for low-income households to purchase food.
Changes to SNAP Benefits in Maryland
Recent federal changes will affect Marylanders and the federal benefits received. Temporary benefits (called "emergency allotments" or "max allotments") provided extra benefits during the pandemic. Starting March 1, 2023, the supplements will end, returning benefits to the normal amount, affecting Maryland families.
The Maryland Department of Human Services has resources to help Marylanders stretch their food budget and videos in English and Spanish to explain how this may impact your family.
Since this is a federal change, you can not appeal the reduction in emergency benefits. Notices with changes like this are posted in your myMDTHINK.maryland.gov portal. View your notice to find out how this may impact your family.
SNAP benefits are based on household size, income and specific circumstances. If you're having trouble buying food for your family due to the reduction in benefits, you can call 211 to find a food bank and other resources that may be able to help.
What can I buy with my food stamps?
You can buy healthy foods with SNAP benefits at the grocery store, online store, or the farmer's market.
You can buy:
fresh, frozen, or canned fruits and vegetables
milk
meat
eggs
vegetable and herb seedling plants to grow your own food
Watch for sales to save even more money, or shop at a farmer's market where you can double your money, up to $10.
Maryland Market Money
Maryland Market Money is a farmer's market program that matches SNAP spending dollar-for-dollar, up to $10. For example, if you spend $5 to buy fresh vegetables and fruits, you'll get another $5 to spend.
Look for a "Market Info" tent at your farmer's market. Search for participating locations in Maryland.
Who is eligible for food stamps?
Food stamps help low-income individuals and families buy food. You may be eligible if you:
work for low wages
are unemployed
work part time
receive Temporary Cash Assistance (TCA) or other public assistance
are elderly or disabled and live on a small income
are homeless
The Maryland Department of Human Services, which runs the program in Maryland, explains the other eligibility requirements and income guidelines.
While the program is run at the state level, the federal government determines how much money you receive.
The benefits are based on a federal that determines how much it costs to buy food to make nutritious, low-cost meals for your household. The benefits change yearly.
For most households, SNAP benefits only cover some of their food costs.
211 is always available to help you understand SNAP benefits and find food for your family. Call 2-1-1.
How To Apply For Maryland Food Stamps/SNAP
To get food stamps in Maryland, you must meet income guidelines and any other eligibility requirements, fill out a Maryland SNAP application and you may need to take part in an interview.  
For more information and to apply for food stamps:
Fill out an application online through

the Maryland Department of Human Services 

myMDTHINK

 gateway

Contact your

local Department of Social Services

for an application.
You can also download the application.
Applications are reviewed the same day they are received to determine if you are eligible to receive SNAP within 7 days. If you qualify, you should be able to access your SNAP benefits within 30 days of your application.
Distribution Of Food Stamps
Benefits are loaded onto an Electronic Benefits Transfer (EBT) card and distributed monthly. The funds are distributed on a specific day each month, depending on the first three letters of your last name. Check to see which day of the month you will receive benefits.  
To check your balance on your EBT card, call the Maryland EBT Customer Call Center at 1-800-997-2222 or visit Maryland EBT. 
Recertify Your Eligibility For Benefits
From time to time, you may need to recertify your eligibility for benefits. Select redetermination on the  myMDTHINK dashboard and upload the necessary information. 
Buying Online Groceries Or Fresh Produce With SNAP
You can use SNAP benefits to shop for fresh produce and groceries online at retailers and online marketplaces like Amazon, Walmart, and ShopRite. . Participating stores include Amazon, ShopRite and Walmart.
The SNAP benefits will cover eligible food only, and not delivery or other fees. On Amazon, the food will have a label "SNAP EBT eligible." However, you will only see this after you add your SNAP EBT card to your Amazon account.
The Department of Human Services, which oversees SNAP benefits in Maryland, explains how to use your SNAP benefits with online grocery stores. 
If you have other questions or need help finding a local resource, call 211. You can also search for food related resources by county, to find food near you.
Can I roll over benefits?
Yes. You can roll over unused SNAP benefits from one month to the next. Unused benefits remain on EBT cards for up to nine months.
How can I save money on food?
SNAP benefits are only one part of your food budget. You can make them go further by doubling your money, up to $10, at farmer's markets or shopping sales.
In addition to food banks and food pantries, there are programs like SHARE Food Network. It offers savings of up to 50% on groceries for families. There's a specific menu each month and distribution points throughout the area.
You may also qualify for other benefit programs like the Special Supplemental Nutrition Program for Women, Infants and Children, also known as WIC. Nutritious foods, as well as additional support, may be available through WIC if you qualify. It's a program for income-eligible pregnant women, new moms (up to six months), breastfeeding moms (up to 1 year), infants and children under age 5.
Get Connected with 211
211 understands that inflation, the reduction in SNAP benefits and personal circumstances may make it difficult to afford groceries for your family. Call us anytime at 2-1-1 to talk to a caring and compassionate professional, who can help connect you to other food resources.
With the state's most comprehensive health and human services database in the state, 211 has over 7,500 resources and can help your family. Call 211 or start your search now.