If you're a veteran struggling with Post Traumatic Stress Disorder (PTSD), depression, anxiety, thoughts of suicide, substance misuse or any other mental or substance use concerns, help is available.  
Veterans Crisis Line
If you need to talk, call 988 and Press 1 to speak to the Veterans Crisis Line. Confidential support is available 24/7 for veterans and their loved ones. You can also chat online.
f you are concerned about your safety or the safety of a loved one, learn about signs of depression or suicide.  
Find Maryland resources for veterans
You can also find local veteran resources by calling 2-1-1 or searching the resource database. You can find veteran outpatient clinics, which often support mental health needs. You can also find reintegration counseling and veteran support groups in Maryland. 
Sheppard Pratt Suicide Prevention Program
Sheppard Pratt is working with Veterans Affairs to provide community-based suicide prevention programs through the Staff Sergeant Parker Gordon Fox Suicide Prevention Grant Program. The program will provide:
Mental health screenings
Provision of clinical services for emergency treatment
Case management
VA benefit assistance for eligible individuals and families
Help with getting benefits from the government (state, local or federal) or an eligible program.
Help with emergent needs that may contribute to the risk of suicde. These may include health care, daily living, housing, employment, personal financial planning, counseling, transportation, and temporary income support services, fiduciary and representative payee services, and legal issues.
Outreach to identify those at risk of suicide
To learn more about this program, call 410-938-4357.
Maryland's Commitment To Veterans (MVC)
Veterans can also get support through Maryland's Commitment to Veterans (MCV). Resource coordinators work with veterans and family members to access essential services through the VA system or private providers. These services can include crisis intervention, emergency services, substance misuse, family & group counseling, and other behavioral health services.  
In addition, the program works with veterans who are ineligible for VA services, assisting them in getting their behavioral health needs met. 
Call the toll-free number at 1-877-770-4801.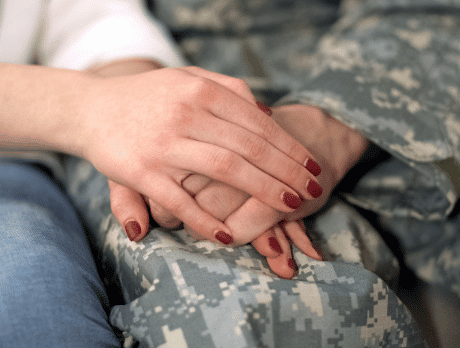 Support lines
In addition to the Veterans Crisis Line at 988, Press 1, which helps veterans in crisis or concerned about one, other military support lines can also help you through difficult situations.
In Maryland, MVC offers Operation Roll Call. It's a free, opt-in telephone service that connects Marylanders who served in the military or are currently serving. Regional Resource Coordinators make weekly or biweekly calls to check on an individual's well-being. Call 1-877-770-4801 to sign up.




 

Veterans and family members can also call the 

Combat Call Line

. You can talk about your military experience or other issue adjusting to civilian life. Combat veterans and their family members answer the phone. 

Call 1-877-WAR-VETS to receive confidential support 24/7/365.

 

The 

Caregiver Support Line

 understands the amount of strain that caring for a veteran can put on you, both mentally and physically. Family members may suddenly become caregivers and may need support. 

Call 855-260-3274 to speak to someone about your experience and find solutions.
Veteran Centers
Veteran Centers are one of the cornerstones of the mental health services offered through the Veterans Affairs to veterans and their families. Each center provides readjustment counseling, including family & group counseling, sexual trauma counseling, PTSD counseling, and any other mental health service you need to receive.  
You may not even know what you need. That's ok. You don't have to solve your concerns on your own. Don't wait. Connect with the VA now to find the best resources for you. The self-assessment tool helps you find support designed for you, no matter your concern.
If you were in combat or experienced any sexual trauma during your military service, bring your DD214 to your local Veteran Center and speak with a counselor or therapist for free, without an appointment, regardless of your enrollment status with VA. Many of the therapists understand as they are also veterans.
These centers are located across the state of Maryland. In some cases, transportation may be provided through your VA benefits.  
Find a veteran Center near you or find a veteran mental health support program near you through Make The Connection.