Many Veterans are eligible to have some or perhaps all of their health care provided through the VA system. Many factors go into determining someone's eligibility for VA health benefits. Resources are available to help people in that process. 
The VA has a network of convenient, community-based outpatient clinics designed to provide various health care services to Veterans.  Many of these clinics offer primary care services, preventive health, health education, medical screenings, and inpatient and specialty care referrals.  
While benefits may differ depending on multiple factors, some of the general health care services often provided by the VA include: 
Inpatient hospital care

 

Emergency room services

 

Outpatient hospital and doctor services

 

Mental health and substance misuse services

 

Preventive care and medical screenings

 

Medical supplies

 

Prescription medications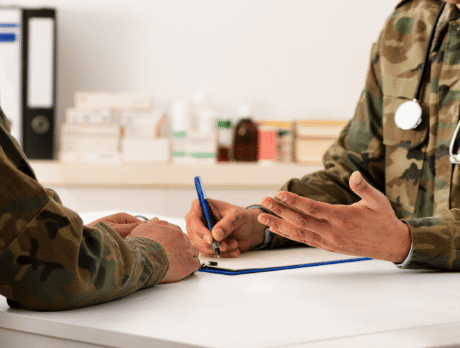 Find A VA Health Care Facility
Maryland Veterans can access VA health care facilities or call one of the following numbers for eligibility and enrollment, depending on where you live: 
For information on U. S. VA health care enrollment and eligibility, contact: 
Central Maryland/Eastern Shore: 

VA Maryland Health Care System

 (Baltimore, Perry Point, Loch Raven), Eligibility and Enrollment, 1-800-463-6295, ext. 7324

 

Western Maryland: 

Martinsburg VA Medical Center

, Eligibility and Enrollment, 304-263-0811, ext. 3758 or 800-817-3807

 

Montgomery County & Prince George's County/Southern Maryland 

Washington DC VA Medical Center

, Eligibility and Enrollment, 202-745-8251

 
You can also find Veteran outpatient clinics in the 211 database. Find one near you.