Do you need dental care? Free and low-cost dental clinics may be an option if you need dental care and do not have insurance. Vouchers may also be available to reduce the cost of care at a private dentist's office.
Maryland Healthy Smiles Dental Program (MHSDP)
Maryland Healthy Smiles Dental Program provides dental services to eligible adults aged 21 to 64 who receive full Medicaid Benefits.
It covers routine dental checkups, cleaning, fluoride treatments, x-rays, root canals, crowns, extractions, and anesthesia. Denture adjustments are also covered for adults. For children under 21 years old, the program also covers orthodontics, fluoride, and sealants.
Search for a Medicaid dentist in Maryland, providing care through the Maryland Healthy Smiles Dental Program.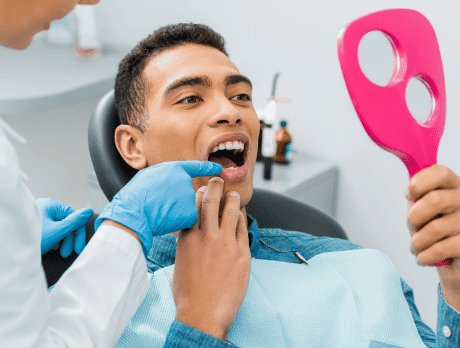 Dental Insurance
To cover basic dental care and treatment you can purchase dental insurance during a qualifying life event or during open enrollment from November 1 to December 15. Coverage starts on January 1.
Wondering how much dental insurance will cost? Get an estimate from Maryland Health Connection, and then find a plan that's right for you and your family.
Some health insurers may also offer dental care.
There are also dental programs throughout the state of Maryland that provide care through colleges, the health department, and community clinics.
Free and low-cost dental clinics
Several dental colleges provide community clinics.
The Dental Hygiene Center at Howard Community College provides affordable dental services, including screenings, X-rays, sealants, non-surgical periodontal treatment, deep cleaning, fluoride treatment and follow-up care. The cost is $20 for adults in the community and $10 for children.
The clinic does not provide fillings, extractions, root canals, orthodontics or other dental treatments.
Allegany College of Maryland also provides low-cost community dental services through its Dental Hygiene Clinic. Their focus is on preventive care and is available during the fall and spring semesters.
There are also programs at the Community College of Baltimore County, the University of Maryland School of Dentistry, and the Community College of Baltimore County. Reach out to the college near you for program details.
Health Department dental programs
There are also dental clinics at some county health departments.
In Berlin, the Worcester County Health Department provides care for children under age 21 or pregnant and who are uninsured, underinsured, or enrolled in Maryland Health Smiles Program.
The Baltimore City Health Department provides basic and urgent dental care at the Druid Dental Clinic and Eastern Dental Clinic. There are fees associated with the care, and the clinics accept Maryland Health Smiles, most Medical/Medical Assistance plans, and a few other plans which are subject to change.
There is also a pediatric dental clinic at the Frederick County Health Department for uninsured children and those with medical assistance. The health department also has dental vouchers for adults who need oral surgery at a private oral surgeon.
These are just some of the programs at health departments across Maryland. Contact your local department to get more information on dental clinics and reduced-cost services, if available in the community.
Dental care for seniors
In Frederick County, there is an emergency dental assistance program for routine emergency issues like tooth extractions and fillings through the Religious Coalition for Emergency Human Needs. It's only available to Frederick County residents aged 51 and older.
Find dental care in Maryland
In addition to the health department and colleges, dental care may also be available at health centers throughout Maryland. You can find free or reduced-cost dental care near you in the Maryland Oral Health Resource Guide or by calling 211 or searching the 211 resource database.