Get Help
Help is available if you're struggling to pay your mortgage. The sooner you act, the better.
Maryland Home Owners Preserving Equity (HOPE) Initiative can help you save your home. The agency works with housing counselors at nonprofits throughout the state. They'll help you understand the foreclosure process and programs that can assist.
COVID-19 specific guidelines for affected homeowners provide immediate and additional financial relief for Marylanders financially impacted by COVID-19. Learn more about the COVID-19 specific programs or reach out to Maryland HOPE.
Call HOPE at 1-877-462-7555 as soon as possible.
If you are a renter and know that your landlord is in foreclosure, contact the Public Justice Center to learn about your rights.
Avoid Foreclosure Rescue Scams
There are no fees to get help with a foreclosure in Maryland.
Some scam artists lure homeowners into signing their deed over and then take the home for themselves and others charge enormous fees without delivering any services at all. Do not pay a mortgage relief company for assistance. Don't sign any documents without first getting objective legal advice.
Call your mortgage company, a state-approved housing counselor through Maryland Hope or call 2-1-1 for support
Foreclosure Process
After you miss one payment, you are in default and may receive a "deficiency notice" from your lender. If you miss several payments, you may get a "notice of default," which explains how much you owe and advises you that foreclosure may be possible.
Foreclosure proceedings can legally begin when you have not paid your mortgage for 90 days.
The next step is a "Notice of Foreclosure Action." Maryland law requires that the notice be sent both certified and first class mail at least 45 days before filing a foreclosure action.
Don't wait for this to happen. The sooner you get help with your mortgage problems, the more likely you will keep your home.
View a timeline of the Maryland Foreclosure Process.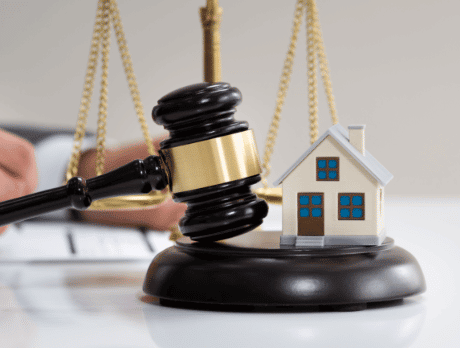 Mortgage Payment Options
Generally, housing lenders do not want to foreclose on a mortgage. There are rarely winners in foreclosure because of the costs involved. Try to work out a payment plan with your lender until you are better off financially.
The key is to ask for help early and persistently and get advice from a state-approved housing counselor. They can help you understand your mortgage documents, explain the options you have and help you negotiate a "Workout Plan" with your lender.
Come to the appointment prepared with settlement paperwork, tax returns and any notices or invoices from your lender, along with your household budget and list of creditors.
Possible Workout Plans could include:
Repayment Plan – Catch up by adding a portion of the past due amount to your monthly payments.
Forbearance Plan – Your monthly payments are temporarily reduced or suspended. There is usually a higher amount due when the payments reinstate.
Loan Modification Plan – The lender agrees to change your terms in some way. They might reduce your interest, extend the loan payment period or negotiate the prepayment penalty.
Partial Claim – The lender may offer a low-interest or interest-free loan through the insurer (FHA or private mortgage insurance) to catch up on the arrearage. There may be small monthly payments. The loan is due when you sell the property or when you pay off your first mortgage.
Recast Plan (not available with Fannie Mae or Freddie Mac) – You put missed payments at the back end of the loan.
If your lender rejects your proposal, try to negotiate and find out what they might be willing to accept. If it seems unreasonable or unfair, ask to speak with a loss mitigation specialist or supervisor. Though a housing counselor can be a great help, you need to act as your advocate. Even if foreclosure is inevitable, you can still negotiate better terms or an extended timeline so that you aren't out in the cold. Be ready to keep fighting!