211 Maryland joined Sheppard Pratt and Springboard Community Services for a discussion on 92Q on setting minority mental health goals.
Mental health is a huge part of overall well-being, but are you taking the time to prioritize it? Or are you too busy trying to provide for your family? Self-care and setting achievable goals are key components of maintaining good mental health.
Accessing mental health resources can be a daunting task. You may not know where to turn and even if you do know how to access services, you may face long wait times for an appointment to talk about your mental health.
But, help is available!
211 Maryland, Sheppard Pratt and Springboard Community Services were part of a panel discussion with 92Q on the importance of setting achievable mental health goals. The discussion highlighted topics such as toxic masculinity among men in minority communities, how one can prioritize their own needs while balancing family commitments and how critical it is to have honest conversations about what one wants to accomplish in life.
They also talked about minority mental health, finding a therapist who understands you, and how to reach your goals and overcome obstacles.
The experts also shared the ways their organizations can support individuals who need mental health support.
What is 211?
By law, 211 is the health and human services hotline for the state of Maryland. Anyone can dial 2-1-1 from any device and connect with free and confidential support 24/7.
You can call 2-1-1 and say I need food, I need housing or I need mental health support. "You're connected to someone who's empathetic and that will listen and provide a resource or service where they live," explained Quinton Askew, 211 president and CEO.
211 provides access to local resources such as food banks, housing assistance, mental health support, legal help, substance misuse treatment and other needs.
How Can 211 Help with Mental Health?
211 can provide support and referrals for individuals seeking mental health care services in the state of Maryland.
211 Health Check is a free and confidential mental health check-in program that provides weekly support through a scheduled phone call with a trained professional.
The program was created in honor of Congressman Raskin's son, who died by suicide.
"That was someone who had access to all the resources and services in the world but didn't feel connected," Askew said. "So, we were able to partner with them and some of our local delegation to create this tool, 211 Health Check."
You can schedule the time you want someone to check in on you every week and connect.
"So you can call 2-1-1- and say, 'hey, my name is Brian. I want to let you know to give me a call at 8 p.m. every Sunday.' So every Sunday, your cell phone rings. One of our crisis specialists will call you, and they'll chat. 'Brian, how are you doing? Do you need anything today? Can I connect you to a resource?' If you say, 'I'm all good.' We'll check in next week," Askew explained.
You can stay connected for as long as you want and can rejoin the program anytime.
211 Health Check is a free and confidential program run through 211's partnership with the Maryland Department of Health, Behavioral Health Administration.
92Q talked about how everyone does not have a great support system, so 211 Health Check can be that support system.
Learn more about 211 Health Check or sign up by calling 2-1-1.

Finding a local mental health therapist
211 can also help you find individual therapy or group therapy sessions or other emotional support networks needed for emotional well-being.
Affordable mental health care is available.
The panel discussed the struggle to find a clinician who gets you. Askew shared a personal experience when he was searching for a counselor. "I couldn't find a person of color," Askew explained. He also ran into therapists who were full. "So, my first experience wasn't really a good one. Because you are just not comfortable."
If you're uncomfortable with the therapist, you may not discuss everything. It's a starting point, though, to have a conversation and get out some of your inner thoughts and feelings.
Askew said that the first therapist got him in the right direction. Then he could find a person of color with whom he had a better connection.
Finding a clinician is trial and error. If you find someone that is not a good fit, it's ok. Find another one. Get on another waiting list.
"Do not give up because you'll find that fit for you, and you'll notice progress and meet your goals with that support," said Natasha Peterson, Director of Client Services with Springboard Community Services. "Of course, I know people think about stigma or what it would look like me seeing someone, talking to someone, that looks like me, or you know, all those things. But, it actually takes more courage and strength to ask for help."
Peterson said to be real with yourself and recognize what you need.
Timothy Allen-Kidd is the Senior Director of Rehabilitation and Recovery for Sheppard Pratt. He said, "I think a trained therapist, regardless of your background, is a benefit and a wonderful thing to have. I think that an Asian American can do great work with African Americans. I do. I think a good therapist is a good therapist. I also know for a fact that there are some similarities that people who look like me will understand and have a different approach in communicating with me. So, do I think that all African Americans are having African American doctors? No. I think African Americans should have a good therapist, no matter what your therapist looks like."
Allen-Kidd went on to say that there is a need for more Black therapists.
"We need more black men, therapists for our young men, and also for our young black ladies to show them the greatness of black men. You know, so short answer, any good therapist can be good, and we need some more black therapists," Allen-Kidd said.
Askew mentioned the Black Mental Health Alliance as an additional support resource.
Mental health needs to be normalized
"We have to stop saying I'm okay when we're not okay. You know, and we often also ask people, you know, how are you doing, and we don't even stop to really listen to the answer. We're walking past them. So be prepared because people are not okay," explained Peterson.
Askew said it's also important to be vulnerable and put yourself out there and have a conversation with your friends. When you put yourselves out there, someone else may too.
"I want us to man up and stop telling little black boys to man up and stop crying," explained Allen-Kidd. "We as black men, we have got to say what you said, Natasha.  It's okay not to be okay. It's okay. And I don't feel any less of a man because I say I can't handle this. And that's what we have to get, especially our black men to realize. It's okay not to have the answer. It's okay to need the help. You know, it really is. We got to wear a tattoo across my forehead. It would say, brothers, it's okay not to be okay. You know, let's talk about it."
A listener commented that "pride is one of the biggest struggles."
The panel discussed how that's a big issue. Remember, calls for help are confidential and handled in a non-judgmental way. There are tools and resources available to help you. You don't have to do it yourself.
Self-care
Self-care is also an important part of mental health.
"Taking more of me time. I think being able to know how to step away and create boundaries," explained Askew. "As a man you want to make sure you do it all. You want to be held accountable for everybody. Do everything. Being honest with yourself – I can't do it all."
Peterson said, "Prioritizing my own needs and protecting my peace. We tend to take care, and do everything for everyone else, but we sometimes neglect ourselves. Putting ourselves first sometimes is okay."
How to achieve your goals
Trained professionals can encourage you to reach your goal. If you need help and support along the way, it's available.
It'll start with a conversation about what you want to do, what you're good at, and how you see yourself.
Allen-Kidd said when someone comes to Sheppard Pratt and says they have a goal, they ask the individual what they want to do and allow them to develop their plan to achieve that goal by providing resources.
Support is there to help guide you toward that goal. Know that you may hit bumps in the road, and that's okay.
You can change your mind. Allen-Kidd says perhaps you set out to be a basketball player but changed your mind to be a chef. That's okay.
Excuses that get in the way of achieving your mental health goals
Natasha Peterson, with Springboard Community Services, talked about excuses people make that stand in the way of their goals.
I'm going to pray about it.
I don't have time.
It'll pass.
I don't know those people. [Excuse for not utilizing support resources]
"There's a big stigma associated with mental health and talking to a complete stranger. What is talking about it going to do? How is that going to help? People don't realize how therapeutic that can be by having that impartial, neutral person who is trained and skilled to help guide you through some of the most trying times in your life," Peterson explained.
She said her team tries to instill hope and encouragement so people know they can do whatever they want.
The 92Q moderators asked how you get people out of "excuse land."
Peterson explained they try to get the person out ahead of the barriers. They'll ask if they've tried certain things before and what worked and what didn't work. What got in the way of them reaching their goal?
"And, what do you anticipate might come up that stops you from seeking employment, or, you know, whatever your goal may be so that we can get ahead of it before it even happens," explained Peterson. "So, then when it does happen, it doesn't throw you off guard and discourage you or you just completely give up."
You can't prepare for everything, but you can prepare for some potential challenges and obstacles.
Social media pressures
Social media normalizes behavior, and the pressure of needing validation in the form of likes and followers can be overwhelming.
"Your goals are your goals. No one, absolutely no one has to like your goals," explained Allen-Kidd.
Try to avoid unnecessary pressure.
Societal traditions of marrying at a certain age or being parents at a certain age can also add undo stress and barriers to reaching your goals.
The majority of 211 calls deal with mental and behavioral health – someone who needs to talk to someone.
"We all know when someone calls with one issue, there are generally two or three things going on," explained Askew. "Through that conversation, they'll help identify oh you might need help with rent."
211 provides wraparound services, and holistic support, for the whole family.
Peterson said, "It's important for people to be okay with asking for help. We can't do it all by ourselves. There's going to be a time when we need someone to help us for whatever reason. And, so it's okay to ask for help. You know, we're so used to just figuring it out or just trying to fix it ourselves that we don't even realize the resources that are out there that could assist with those basic needs."
Getting help
"Sometimes people don't know what help looks like. They're in the moment. They're going through a crisis, and sometimes it's really hard to see or understand what you need," explained Askew. "We're lucky here in Maryland that we have this easy-to-access number – 2-1-1 – that anyone can call."
211 is available 24/7/365 to connect people to ongoing mental health support services, food, housing, employment and many more essential health and human services.
211 is available by phone, text and chat.
If you need urgent mental health support, the new crisis number is 9-8-8.
"You have to know where the help is because, you know, you don't always know. We always say 211 is this great secret out there. If you don't know where to go, it really is difficult."
That's why 211 has conversations like this one on 92Q.
"You don't know what you don't know. You can call 2-1-1. Somebody on the other line can answer and say here's where you can go," explained Askew.
It's not just the initial call that's important. At 211 Maryland, we're focused on continuing that connection through text messages. 211's text message support programs send ongoing supportive messages to keep you on track with your goals.
Here's a look at some of the texting programs:
MDYoungMinds – mental health support for teens/adolescents
MDMindHealth – adult mental health
MDHope – opioid use support
MDAging – aging and disabilities
MDKinCares – kinship support
"This thing that we call life is hard!" Allen-Kidd exclaimed. "We're all in this bubble together, especially for those of us who look like this. We're in this bubble together and it's okay. You're not demonized because of your struggle. Your struggle is your struggle and you're not the only one with the struggle."
Who answers 211 calls?
Trained and certified professionals answer 211 calls. Their greatest strength is listening without judgment. The caring and compassionate 211 specialists understand and guide callers in the right direction.
"These are folks who have their master's or bachelor's in social work or health and human services. These are folks who are bilingual," explained Aksew.
Translation is available in over 150 languages.
Sheppard Pratt's behavioral health support
211 can connect Marylanders to organizations like Sheppard Pratt and Springboard Community Services. You can also reach out to them directly.
At Sheppard Pratt, they offer a continuum of services from inpatient behavioral health to outpatient support.
"We're like the Super Walmart of Behavioral Health. We literally have everything that you can need regarding your behavioral health. We're all over," Allen-Kidd explained.
Allen-Kidd talked about how all the agencies are "in this together," trying to do their best work to get people the help they need.
About Springboard Community Services
Peterson talked about some of the programs at Springboard Community Services, including a family violence program that works with individuals with some type of victimization.
Whether you've been a victim of fraud, intimate partner violence or abuse, Springboard provides intensive case management and support.
The organization also has a youth homelessness program. They work with many couch surfers and kids who have been kicked out of their home prematurely or experienced some trauma.
"It's really sad and unfortunate, so we're there to try to provide support to them," Peterson explained.
Springboard's Youth Resource Center is a place where individuals can drop in and shower, wash their clothes, get food or basic needs met.
They also offer individual and family therapy. They can help with substance misuse, mental illness, trauma or abuse.
There are many Maryland resources to help you achieve your mental health goals. If you need help with mental health or another essential need, call 2-1-1.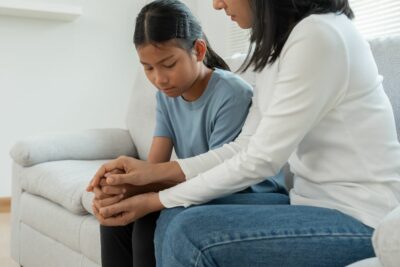 On What's the 211? podcast, we talk about the Kennedy Krieger Institute and how they support adolescenet mental health needs.
Read More >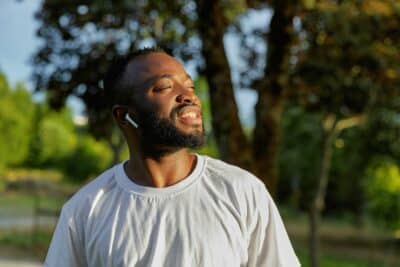 More people are talking about their mental health experiences, which is a step in the…
Read More >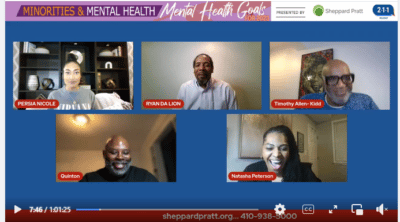 211 Maryland joined Sheppard Pratt and Springboard Community Services for a discussion on 92Q on…
Read More >